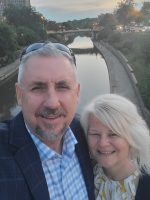 Jason is the Senior Pastor of Faith United Baptist Church in Saint Joseph, Missouri. He holds two academic degrees, a Master of Theological Studies and Bachelor of Science in Religion. Pastor Jason has served on staff at two other churches prior to being called to Faith United Baptist.
Jason retired from United States Army after 20 years of active service, serving in numerous infantry assignments including combat duty in the Middle east as well as a Senior Drill Sergeant.
Jason and his wife, Hattie, have two children and one grandson. Their son, Anthony, went to be with the Lord, July 18, 2005.
Jason's passion is preaching and teaching the Word of God, sharing the Gospel with those who don't know Him, and equipping the church to be bold witnesses for Christ. He also enjoys spending time with his family, woodworking, kayaking, and hiking.